Mission Statement:
The teachers at Craft Haven are solely focused on making the world a more creative and beautiful place to live in and thrive. The independent spirit is so important. Bringing new crafters together to continue their growth and education generates new ideas and excitement in the crafting community. We're here to help you gain the skills to realize your budding visions, whether you're a new crafter or have been doing it for a lifetime!
We offer beginning and intermediate classes primarily in sewing and hand crafts. At the Craft Haven, we bring a high level of professionalism, top of the line equipment, intimate class sizes covering creative and accessible projects that follow today's latest fashion trends, and focus on education while still having fun. We are centrally located, just two blocks from Alamo Square, and highly accessible to most mass transit.
Come on, GET CREATIVE!
Bios: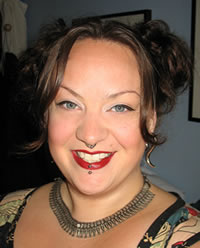 Kelly Williams is a designer, crafter, instructor, and all around DIY super creative kinda gal. Early on she gained inspiration from her mother, an avid sewer, but did not truly hear the call of fashion until years later while attending her first Burning Man festival.
In early 2005, her craving for inspiration lead her to the doors of Stitch Lounge, where she found amazing kindred spirits. She soon transitioned into a permanent staff member and instructor, where she discovered a surprising aptitude for teaching. Her ability to clearly break down projects into accessible terms, as well as her understanding of design for a wide range of body types, made Kelly a popular instructor and eventually lead to her movement into a management position.
With the closing of Stitch Lounge in 2008, Kelly founded Craft Haven Collective with fellow Stitch teacher Hannah McDevitt. Though Hannah has moved on to other endeavors, Kelly continues the movement at CHC.
Contact:
Voicemail: (415) 358-0739 This line is for non-emergency messages only and is not manned by a live person.